We made it through 2020! What a year that was?! And honestly the start of this year has been anything but easy as I am sure you will agree. But never the less we will continue on and with February just around the corner it is time for my January monthly mention. If you are new around here (first of all hello and welcome to the Wee Bit Of This And That community!) every month I highlight a low waste product or brand that I have been loving in the hope I can help some other people in their low-waste lifestyle journey.
This month we are heading to the bathroom, and more specifically the toilet! Yes, this month we are talking about loo roll. Something every household has, and strangely became a bit of a sought after item last year (still not sure what that was all about!) but can be so detrimental to the environment depending on the brand that you choose to use.
Now, I was to preface this with that fact there are lots of amazing brands out there offering eco-friendly toilet roll options and I am by no means saying that this is the best one. This just happens to be the one that I like using and I support the same principles that this company has – therefore I think it is worth sharing.
"The Good Roll" is a Dutch company that provide 100% tree-friendly toilet roll, made from recycled paper, without chlorine, dyes and fragrances with zero plastic packaging involved! On top of selling a sustainable product they also aim to make a positive social contribution with 50% of their net profit for the construction of toilets in various countries in Africa.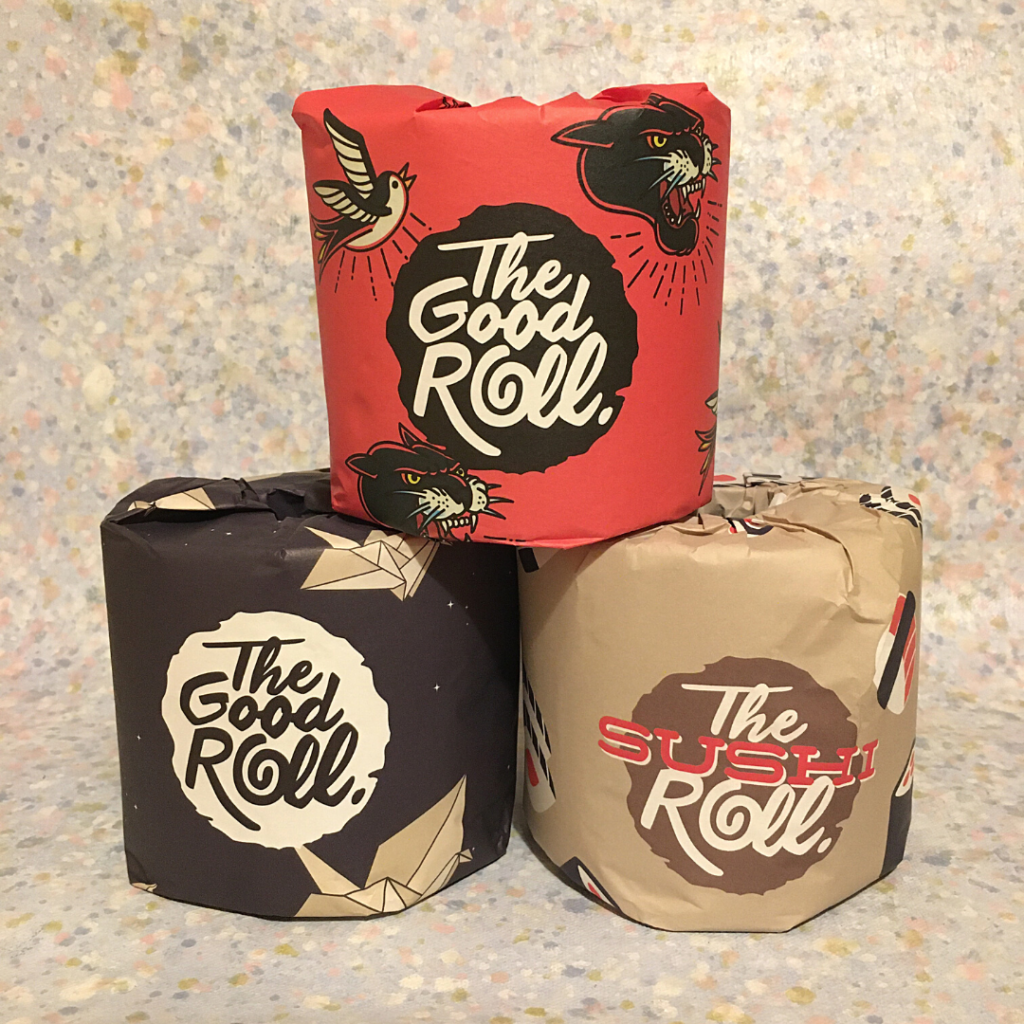 And of course we need to talk about how amazing their wrapping options are! Look at those patterns, colour and they have some fab little quotes on there too. My personal favourite at the moment is "A party without sushi is just a meeting". It really does make me happy when I see them in my bathroom, not something I ever thought I would say about toilet paper. And of course, there is the added bonus that the outer packaging makes excellent material for my crafting, keep an eye out for a donut themed card I will be sharing soon that uses their packaging.
Such a simple yet effective change to make! Let me know if you have made the change to recycled toilet paper in the comments below, or if you have any other ideas for how to use the outer paper.